All Circle/District Secretaries are requested to ensure that the proforma is filled by all the members and submitted to concerned AOs.
Implementation of 30% superannuation benefits.
Finalization of standard pay scale of E2 and E3 to JTO and SDE equivalent respectively.
Single executive feeder cadre and No lateral recruitment from among outside in the name of MT/DGM above JTO/JAO.
At par social status and career enhancement as of leading CPSEs. Implementation of performance oriented time bound functional promotion.
Uniform first time bound promotion in 4 years.
One increment to all LDCE -2012 qualified SDEs.
Issuance of Posting Orders for LDCE-2015 qualified candidates and notification of SDE RRs.
Replacement of intermediate Pay Scales E1A, E2A by Standard Pay Scales of E2-E3 for JTO and SDE equivalent executives.
Resolution of pending Rule-8 cases and clearance of waiting list from the JTOs qualified through LICE.
Special recruitment of JTO/JAO in tenure circles to mitigate the hardship of executives of these circles.
Transparent and fair transfer policy.
Scrapping of MT RRs/DGM RRs.
Extension of 22,820 as initial basic to the executive's recruited post 01.01.2007.
sharing knowledge & information, providing feedbacks to decision makers at various levels, participation in development & decisions, ensuring implementation of all the revival plan for BSNL, putting all the efforts to become No-1 telecom operator and complete solution provider in the world.
DECISIONS OF THE AUAB MEETING HELD ON 20-02-2019
Posted on 20 Feb 2019
Decisions of the AUAB meeting held on 20-02-2019 :
A meeting of the AUAB was held today to review the 3 day strike and also to chalk out the future course of action. General Secretaries/Senior officer bearers of all the constituents of the AUAB participated. The meeting whole heartedly thanked the entire Executives and Non-Executives who made the 3 day strike a historic success. The meeting also congratulated the circle and district level AUAB, for effectively organising the strike. With the view to carry forward the movement further to settle the charter of demands, the following programme of action is finalised.
1. Conducting March to PMO on 06.03.2019, by mobilising the employees from the surrounding circles.
2. Memorandum to be submitted to all the MPs, latest by 28.02.2019.
3. To send messages to the Hon'ble Prime Minister and Hon'ble Minister of State for Communications on Twitter.
4. Meeting the Hon'ble Minister of State for Communications wherever possible by our comrades.
---
ORGANISE THE 3RD DAY STRIKE MOST EFFECTIVELY - AUAB CALLS ON THE EMPLOYEES
Posted on 19 Feb 2019
Organise the 3rd day strike most effectively - AUAB calls on the employees :
The AUAB conducted it's review meeting today evening. General Secretaries and senior office bearers of the constituents of the AUAB participated in the meeting. The meeting reviewed the 2nd day strike that has taken place in various circles. The meeting expressed it's satisfaction that the 2nd day strike was very successful. In fact, in some circles, the strike percentage has improved, compared to the 1st day strike. The meeting also took serious note of the letter issued by the Corporate Office, threatening to take action under FR 17A. The meeting resolved to inform the employees that, this attempt of the Management would be stiffly resisted by the AUAB. The meeting also took note of the strike particulars of the various circles, circulated by the Corporate Office. The figures contained factually incorrect details. Finally, the meeting decided to take all out efforts to organise the 3rd day strike more effectively.
Glimpses of Strike throughout the country Click here
---
IT IS A DO OR DIE SITUATION - AUAB CALLS ON THE EMPLOYEES TO ORGANISE THE 3 STRIKE MASSIVELY
Posted on 17 Feb 2019
It is a do or die situation - AUAB calls on the employees to organise the 3 strike massively :
The AUAB held it's crucial meeting today. General Secretaries/senior leaders of BSNLEU, NFTE, SNEA, AIBSNLEA, AIGETOA, BSNL MS, ATM, TEPU and BSNL OA participated. The meeting reviewed the preparations going on throughout the country for the 3 days strike. All the General Secretaries gave their reports on the preparations. It is very encouraging to note that, excellent preparations are going on. Especially, the momentum has picked up tremendously in the last 2 days. After considering all the factors, the meeting unanimously decided to go ahead with the strike. It starts from midnight (00:00 hrs.) today. If any clarification is required, comrades are requested to contact their respective General Secretaries.
---
FORMATION OF CIRCLE BODY OF AIGETOA UTTARAKHAND
Posted on 16 Feb 2019
Formation of Circle Body of AIGETOA Uttarakhand :
In a meeting held at Dehradun on 16th February 2019, circle body of AIGETOA has been formed in Uttrakhand. We appreciate the efforts of members Shri Vivek Tiwary, Shri Rishi Ratan , Shri Narendra Gangwar, Shri Naveen Nautiyal, Shri Arun Kumar and other team members which made this possible. Uttarakhand was the only state where our circle body was not present. We also extend our gratitude to Shri Hari Shankar Tiwary and Shri Ajay Kaswan for making all the efforts and ensuring the presence of AIGETOA in Uttarakhand. Shri Narendra Gangwar, Shri Vivek Tiwari and Shri Rishi Ratan has been elected as Circle President, Circle Secretary and Circle Treasurer respectively. We look forward to a strong presence of AIGETOA in Uttarakhand in near future.
---
AUAB HOLDS REVIEW MEETING - DECIDES TO GO AHEAD WITH THE STRIKE
Posted on 16 Feb 2019
AUAB holds review meeting - Decides to go ahead with the strike :
A meeting of the AUAB was held today. General Secretaries and senior office bearers of BSNLEU, NFTE , SNEA, AIBSNLEA, AIGETOA, BSNL MS, ATM, TEPU and BSNL OA participated. The meeting paid homage to the 40 CRPF personnel martyred in terror attack at Pulwama. The preparations that have been made in various circles, to make the strike successful, was reviewed. The meeting expressed it's concern that, the DoT has not even come forward to hold any discussion with the AUAB so far. After detailed review, the meeting unanimously decided to go ahead with the strike. The meeting decided to call upon the circle and district organisations of the constituents, to make the last minute preparations for the success of the strike. The meeting also decided to call upon the employees to hold condolence meetings outside office premises at 10:00 am on 18-02-2019, and pay homage to the 40 CRPF personnel martyred in terror attack at Pulwama.
---
TALKS FAIL - AUAB DECIDES TO GO AHEAD WITH THE STRIKE
Posted on 16 Feb 2019
Talks fail - AUAB decides to go ahead with the strike :
Today the CMD BSNL and Director HR met the AUAB leaders. The AUAB representatives told the Management that, they are prepared to accept 3rd Pay Revision with 5% fitment, as offered earlier by the DoT. However, they demanded that this commitment should be given in writing by the DoT, so that the AUAB can consider deferment of the strike. Even this demand of the AUAB is not accepted. Further, the DoT has also diluted it's earlier assurance to give DA neutralisation. The DoT is demanding that the AUAB should call off the strike, in view of the terror attack in Pulwama. The Secretary, Telecom, has put a condition that she would not meet the AUAB leaders, unless they call off the strike. Immediately after the meeting with the BSNL Management, all the General Secretaries of the AUAB met and decided to go ahead with the strike. The AUAB has also decided to exempt J&K circle from the strike, to ensure maintenance of services, in the backdrop of the terror attack. The AUAB requests all the circle and district unions to organise the strike powerfully.
---
UPDATE ON LEGAL PROCEDINGS ON JTO TO SDE SCF PROMOTIONS
Posted on 16 Feb 2019
Update on legal procedings on JTO to SDE SCF Promotions :
The charge sheet proceedings stay was heard at Hon HC, Kerala today. The management side mentioned about the review petitions pending for hearing and Hon Court directed to hear all the petitions together and posted the same to 25/3/2019 along with Review petitions. It is learnt that the reviews are filed by BSNL, AIBSNLEA & some Members of SNEA.
These reviews were filed (despite the fact that), after a wrong implementation by the BSNL management by executing promotions on 15.06.2018, where the absorbee executives from DoT (including thousands of absorbees who got JTO promotions after BSNL formation with back dated YOR). Absorbed executives only promoted (even who were joined as JTO from 2001- 2014 as JTO) and not even a single BSNL Recruit JTO - against the very spirit for interim promotions of Hon HC judgment dated 05.06.18.
We can't find the rationale for the review/clarification on judgment which were not raised/not known to the management, when one side PRs promotions executed in an over night ?? The answer is simple, These 'N' number of review petitions are made simply to delay the justified promotions to BSNL Recruits through SCF quota.
---
UPDATE ON REVIEW PETITION ON CONTEMPT ON 1:1 SCF PROMOTIONS
Posted on 14 Feb 2019
Update on Review petition on Contempt on 1:1 SCF Promotions :
The hearing on contempt proceedings on 1:1 JTO to SDE promotions will be there at Hon HC, Kerala on 15th Feb 2019. We are closely observing & following the developments with diligence.
---
MESSAGE FROM GS
Posted on 13 Feb 2019
Message from GS:
Dear all, Lot of panic has been spread in the employees due to recent media reports and social media campaign. Sudden sense of panic has creeped up in all minds and specially the BSNL recruits keeping in view the number of years we have to spend in BSNL. Our bread and butter comes from BSNL and we can not let it send to back stage or be closed. As per our information, there is no such closure proposal as of now and in all probabilities, a revival package will be in offering . AIGETOA is in favour of implementing VRS and it should be offered to all employees above 50 years of age. We are also in support of reducing retirement age to 58 if government considers it necessary to run BSNL. For us survival of BSNL is a must and all the issues come secondary.
In the recently concluded CEC meeting at Jammu, CHQ team had an extensive discussion on the revival issues and our HR issues. On the revival plan, we will support any move of government which is for the betterment of BSNL and its sustainability. We have already submitted our official view on the matter to IIM team constituted for revival of BSNL and we will be submitting it to other higher ups in administrative ministry including PMO. On the HR issues of BSNL, specially the Promotion issues and MT issue, CHQ has decided to go for Organisational means if management does not come for corrective action immediately. Though our battle in Hon'ble court of law will persist but we are not willing to wait any more with respect to our long pending promotion issues and MT recruitment issue.
We hereby appeal all BSNL Recruits to get united and speak in one voice. Remember we have everything to lose if BSNL fails to survive. We all will have to ensure that BSNL remains safe, progressive and on the path of revival.
---
FINAL LIST OF NOMINATIONS RECEIVED FROM ALL CIRCLES FOR THE CENTRAL COLLEGIUM
Posted on 09 Feb 2019
Final list of the nomination received for new Central Collegium of AIGETOA & Central Executive Committee Meeting. Click Here for the list.
---
RETURNING OFFICER
Posted on 09 Feb 2019
We regret to write here that Shri Pankaj Watti, Returning Officer for the constitution of New Central Collegium met with an accident and got a fracture in his leg. Seeing the criticalness of the situation, Shri Gaurav Garg from Haryana Circle has been appointed as returning officer in place of Shri Pankaj Watti. Click Here for the notification.
---
GS LETTER TO SHRI MANOJ SINHA JI, HON'BLE MINISTER OF STATE FOR COMMUNICATIONS (I/C)
Posted on 08 Feb 2019
GS Letter to Shri Manoj Sinha Ji, Hon'ble Minister of State for communications (I/C):
GS AIGETOA writes to Shri Manoj Sinha Ji, Hon'ble Minister of State for communications (I/C) Earnest plea for saving the careers of thousands and thousands of young, qualified and efficient workforce of BSNL - Kind intervention is requested for ensuring the career progression of youngsters of BSNL for a healthy, wealthy and efficient BSNL. Click here for letter
---
GS LETTER TO CMD BSNL FOR ISSUANCE OF PROMOTION ORDERS FROM JTO (T) TO SDE (T)
Posted on 08 Feb 2019
GS Letter to CMD BSNL for issuance of promotion orders from JTO (T) to SDE (T) :
GS AIGETOA writes to CMD BSNL seeking issuance of promotion orders from JTO (T) to SDE (T) and demanding enquiry into the circumstances under which contempt was wilfully executed by HR group. Click here for letter
---
UPDATE ON GTI :
Posted on 07 Feb 2019
GTI Update: Today GTI meeting took place in the chairmanship of Shri Surabh Tyagi Sr GM Establishment. From management side Shri Ashutosh Gupta GM Training and Shri A M Gupta were present. From LIC Shri Vishal Branch Manager was present. In this meeting VP Shri Badri Mehta and AGS Shri S K Pathak represented AIGETOA, other associations SNEA AIBSNLEA and SEWA were also present.

During discussion it has been decided that scheme will start from 1st March 2019. ESS window will again be opened for 4 days for exercise/change the options. MoU may be signed by next week.
After this GTI for above 50 age groups for sum assured 20 lakhs would be processed.
---
PROVISIONAL LIST OF CENTRAL COLLEGIUM OF AIGETOA :
Posted on 06 Feb 2019
Provisional List of Central Collegium of AIGETOA :
Provisional list of the nomination received for new Central Collegium of AIGETOA & Central Executive Committee Meeting. Click here for list
Any objections in the list may be submitted to the returning officer on mail id - ro.aigetoa@gmail.com
---
INAUGURATION OF BSNL SONG COMPOSED BY FOUNDER GS AIGETOA SHRI S K SAINI
Posted on 06 Feb 2019
Inauguration of BSNL song composed by Founder GS AIGETOA Shri S K Saini :
BSNL song composed by Founder GS AIGETOA Shri S K Saini was inaugurated by Secretary DoT Smt Aruna Sundararajan and CMD BSNL Shri Anupam Shrivastava in HoCC held on 6th February 2019. Such type of activities shows the versatility of AIGETOA, it's founders and its members. It is learnt that this song is soon going to be published as official caller tune of BSNL.

We are very proud of this great achievement of our founder General Secretary Shri S K Saini Ji.
Glimpses of the Event. Click here
BSNL Song composed by Shri S K Saini. Click here
---
HISTORIC JOINING OF MORE BRS AND OTHER EXECUTIVES TO THEIR OWN PLATFORM AIGETOA:
Posted on 04 Feb 2019
Historic joining of more BRs and other executives to their own platform AIGETOA:
In a recent movement of joining in mass to BRs own platform AIGETOA, a new milestone has been added in AIGETOA MH chapter by joining of 24 new BR members at Bhandara SSA who resigned as office bearers of other associations and joined AIGETOA. By the current activities going on by other proclaimed groups against BRs and executives of competitive quota, trend of ghar wapasi of many BRs and joining of our seniors are continued at many places across India as the truth is visible to all who want to see the truth.
The district body of AIGETOA Bhandara has been formed with following office bearers:
District President- Shri Vilas Bante,
District Secretary- Shri Sushil Madame,
Asst District Secretary - Shri Vijay Titarmare,
Dist Finance Secretary - Shri Kamlesh Dehariya,
District Co-ordinators - Shri C D Bitla, Shri Nikesh Kanoon & Ms Rajeshwari.
In the meanwhile, many of our seniors have also shown their firm faith and belief in the ideologies being percolated by AIGETOA and they are joining our association with open mind. We welcome them with open heart and assure them that there will not be any letdown and we shall be pursuing all the burning HR issues of executives without any bias and prejudice.
We once again extend our thanks to all the executives who have shown their faith and belief in AIGETOA.
---
UPDATE ON CASE ON PENDING SAB
Posted on 01 Feb 2019
Update on Case on Pending SAB:
The case on pending Super annuation Benefits from date of joining of each BSNL recruit came for hearing at Hon CAT, Ernakulam on 31st January 2019. After brief arguments Hon'ble Bench Posted the matter to 06.03.2019 as the other side sought time for detailed study on the subject.
---
UPDATE ON AUAB MEETING
Posted on 01 Feb 2019
Update on AUAB Meeting :
AUAB meeting was held today at 11:30 AM. GS AIGETOA strongly expressed resentment on behalf of all BSNL recruits for casual handling of 2nd PRC pending benefits issue by management . GS categorically stated that under such scenario, it will be difficult for us to be in AUAB if BR issues are not handled in a proper way. GS also raised that in the letter submitted yesterday wrt anomalies of Pension, it is mentioned that pension contribution will be given on 15 Percent Fitment calculation. In such case, 15 Percent Fitment should also be the basis for calculation for Superannuation Contribution. It was informed by the AUAB leaders representing the issue before DoT that on E2-E3, additional Secretary has proposed a meeting in next week where this issue will be discussed threadbare to take it towards resolution. All the constituents also told that they are very serious towards the pending 2nd PRC benefits issue and nothing will be let loose on any aspects. Standard Pay scale of E2 n E3 shall continue to be discussed and for SAB, BSNL management shall be asked for expeditious resolution. On the confusion with regard to the differential treatment of pension contribution and Superannuation Contribution, it was decided by all Leaders of AUAB that contribution towards Superannuation Fund will be based on same Fitment formula which will be used for Pension Contribution. GS AIGETOA once again emphasised that AIGETOA believes in inclusive progress of all but if at any point of time, BSNL Recruits issue will be compromised, we will not hesitate in coming out of all the activities and will choose our individual path.
Notice served by AUAB to BSNL Management and Secretary DoT Click here
---
MEETING BETWEEN AUAB AND THE ADDITIONAL SECRETARY, TELECOM
Posted on 30 Jan 2019
Meeting between AUAB and the Additional Secretary, Telecom :
A meeting was held today between the AUAB and Shri Anshu Prakash, Additional Secretary(Telecom). AUAB representatives in the Committee for Periodic Interaction, Com.P.Abhimanyu, GS, BSNLEU & Convenor, AUAB, Com.Chandeshwar Singh, CS, NFTE & Chairman, AUAB, Com.K.Sebastin, GS, SNEA and Com.Prahlad Rai, GS, AIBSNLEA, participated.From the DoT side, Shri R.K. Khandelwal, Joint Secretary(Admn.) Shri S.K. Jain, DDG (Estt.), Shri Rajeev Kumar, DDG (Budget), also participated. Ms. Sujata T. Ray, Director (HR) and Shri A.M. Gupta, GM(SR), represented BSNL. Detailed discussion took place on the 3rd Pay Revision, 4G spectrum, Payment of Pension Contribution on actual basic pay and Pension Revision issues. As regards the 3rd Pay Revision, in today's meeting, the DoT side offered Pay Revision with 5% fitment. If the AUAB accepted that, then this issue would be placed for the approval of the Digital Commission ( erstwhile Telecom Commission) meeting, to be held on 05-02-2019, and that thereafter it would be taken for the approval of the Cabinet, said the DoT side. The AUAB stated that 5% fitment is very low and that they could not accept it. Thereafter, the AS(T) suggested that the AUAB representatives could discuss the issue with the CMD BSNL and could come back to him within a day or two. It may be recollected that in the meeting held on 03-12-2018, the Honourable Minister of State for Communications had stated that 3rd Pay Revision with 15% fitment was not possible. Further, in the last meeting held with the Additional Secretary (Telecom), 3rd Pay Revision with 0% fitment was offered by the DoT side.
---
GS LETTER TO CMD BSNL REGARDING LDCE 147 EXECUTIVES
Posted on 30 Jan 2019
GS letter to CMD BSNL regarding LDCE 147 Executives :
GS writes to Order of National Commission for SC reinstating LDCE (limited dept. competitive examination) passed officers (LDCE 147 executives) in Pre-6 June 2018 position/status against reversion order by BSNL Corporate Office dated 06.06.2018 due to wrong interpretation of Court order and overlooking the provision of 1986 amended RR-request to reinstate in Pre-6 June 2018 position/status. Click here for letter
---
PREPARATION OF A SINGLE LIST OF SDES FOR PROMOTION TO THE CADRE OF DE
Posted on 30 Jan 2019
Preparation of a single List of SDEs for promotion to the cadre of DE :
GS writes to CMD BSNL regarding preparation of a single List of SDEs for promotion to the cadre of DE based on Rota-Quota in the order of Vacancy Year and taking necessary corrective action by Personnel section of BSNL CO. Click here for letter
---
UPDATE ON MT
Posted on 28 Jan 2019
Update on MT :
Flash News: As per directions of Hon'ble CAT Chandigarh, the last date for filling up the forms of Internal MT has been extended upto 8th February 2019. Click here details
---
DRACONIAN MT RULE IS OUT TO DESTROY YOUR CAREER AND GROWTH IN BSNL
Posted on 27 Jan 2019
Draconian MT Rule is out to destroy your career and growth in BSNL
A time to question your leaderships, wherever you are associated:
It is a matter of great concern for all right minded people that the MT Ghost is again out to destroy your already shrinking opportunities in BSNL. On one side, promotions for BSNL Recruits are not being given and on the other side, BRs are being pushed in DoT era again by the BSNL Management in connivance with the so-called recognized association to bulldoze your aspiration and motivation in this company. If you will go through the flashback, just recall how none of the JTOs/SDEs were even reaching to the post of Adhoc DET while people joining at ADT (today's MT) were reaching to apex of their career in DoT era. The current MT recruitment process is similar to that and is nothing but old wine in a new bottle. It is going to stop all your future avenues by snatching your right of promotion and giving it to the handful of external people looking to rule over you again by proxy setting.
We all know that this MT (Internal) can't be executed in standalone mode while MT (External) is the other part of same MT RR 2013. Management will definitely start recruiting MT (External) citing legal hurdles and non-availability of the candidates from the internal mode. The MSRR 2009 clearly directs preparation of STS Inter-se-seniority list in 1:1 format from gradation list of SCF DE (promoted from SDE/AO) and MT (External & Internal) for the purpose of DGM promotion i.e. 50 percent of the DGMs posts are to be kept reserved for MT quota. It is expected that a stage will soon reach when only DEs promoted from MT quota will occupy all top slots as was being done earlier in DoT Era. Once higher positions will be occupied by the MTs, it will force all the SCF DEs getting promoted from SDE/AO to stagnate at DET and rest at SDE level and superannuate from the very same post except for few lucky chaps. Are you happy with this development? Definitely No !!!
If you dig deeper into this, then the sinister design of the proclaimed corners will be more clearly visible. The first MT, if recruited this year, is going to become DGM either at the end of year 2026 or at the beginning of year 2027. So till 2027, all the DGMs post will be there in platter for the proclaimed ones (Only Senior Batches - Rest all will stagnate) with no takers from Fast Track quota. By that time, all the so called well wishers of the young blood will leave department and the one, who is going to remain in department, will be the BSNL Recruits and executives of later year batches of DOT.
So, Friends, this MT recruitment exercise is a process intended to kill the careers of all BSNL Recruit JTOs and all the SDEs belonging to List 8, List 9 and future lists. This is what, the so-called recognized representatives are doing to the executive fraternity and we all need to oppose it full throttle.
If BSNL Recruits and other executives want to come out of this never ending waiting list to be promoted beyond DE level, then only way is to ask for their "Rightful Internal Fast Track Promotion consisting of 50 percent of DE Level posts reserved for qualified , meritorious and performing candidates" (Earlier 2730 posts and now after 4200 more posts have been created, so ideally internal fast track quota should be of 4830 Posts and since 4200 posts have gone to SCF quota, therefore Internal Fast Track quota at STS should be 6930 (4200 plus 2730). Remember, MT is not a fast track promotion methodology but a new recruitment exercise, which envisages creation of a new cadre just like previous DoT era and will push the careers of all executives towards doomsday. We all will have to understand that without scrapping of MT RRs and MT Recruitment; internal fast track promotion methodology can never come. We all have to appreciate that at least 6930 Posts are to be made available to the meritorious, qualified and performing executives as per the provisions of MS RR in DE Level through Internal Fast Track mode and in the same ratio, DGMs and GMs post should be increased).
So, every executive must ask their leadership about the Possible factors and trade off for which their dreams and careers have been compromised and why the leaders have kept a tacit silence on this burning issue. Some have even gone to the extent of openly supporting management in this and are doing rounds to keep management informed about the new cases filed on MT and suggestions with regard to handling of the cases and completing the MT Recruitment process in a lightening speed.
AIGETOA has been fighting this MT menace since 2008 and successfully defended and will continue to do so but the others are weakening our fight to protect your right. However, we are firm on our vision, we will not allow this MT at any cost.
---
Posted on 26 Jan 2019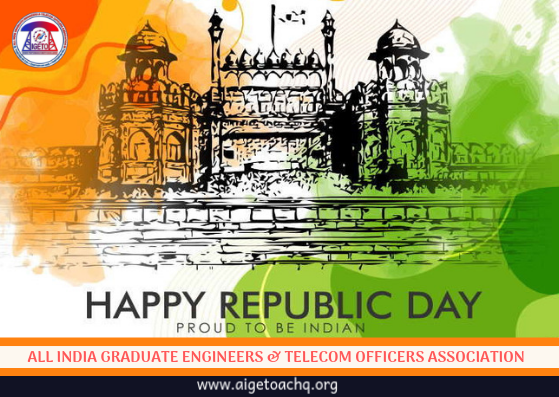 ---
UPDATE ON MT EXAMINATION
Posted on 25 Jan 2019
Flash News : In a case filed by one of the activists for AIGETOA as the proclaimed SENA calls us, Hon'ble court has directed BSNL to extend the last date of filling up of MT registration forms to a date beyond next date of hearing on the aforesaid case. The next date of hearing is 7th February 2019. On next date, we are very sure of favourable Judgement quashing the recruitment notification because of BSNL not following the Hon'ble Court Directions.
Friends, AIGETOA is trying its best possible efforts to stop this MT Recruitment either through court or through organisational means. At any cost, we will not let management and their spokespersons to put our careers into jeopardy by imposing this lateral recruitment on our heads. Friends, Come what may, we will not let this recruitment happen.
We once again re-emphasise the need for unity amongst BSNL Recruits and a single Umbrella for all BRs. Being united is the only solution for all our problems.
---
UPDATE ON JTO TO SDE THROUGH SCF QUOTA & MT
Posted on 24 Jan 2019
Update on JTO to SDE through SCF quota & MT :
GS AIGETOA Ravi Shil Verma along with Vice Presidents Shri B K Mehta and Shri V K Singh met GM SR and expressed the resentment of BSNL Recruits over the delay in issuing the promotions of JTO to SDE through SCF quota. We emphasised that it has been brought to the notice of all by the recognised association that management is not going ahead with the promotions as some applicants have filed the contempt case against management. We sought the authenticity of such statements which have been repeatedly reflected on the website of the so called recognised association by quoting the discussions with management. GM SR categorically denied any such thought from management side and informed the confusion over own merit and on merit in implementation of reservation has yet not been cleared and the reference sent to one of the ASGs has been returned back without any opinion. ASG has directed BSNL to get the opinion from SG/ASG who was representing government side in Hon'ble Supreme Court when Judgement on reservation was delivered. The needful is being done. BSNL has further sent the reference to DoPT also and a team from BSNL shall be personally pursuing at DoP&T for clarification. GM SR said that they are expecting that within next 10-12 days, opinion on Own Merit and ON Merit issue will be received. So friends contrary to the claims posted on website of the so called recognised association, the fact is that clarification on the reservation issue has yet not been received is the main show stopper in the way of promotions.
In the meanwhile, The execution OA & contempt hearing on 1:1 JTO to SDE promotion was heard at Hon CAT, Ernakulam today. As there was one month stay for contempt proceedings ftom Hon HC EKM, the proceedings are adjourned to 21/2/19.
The review petitions filed at Hon HC by some members of another associations and management is listed for hearing on 15/2/2019.
The SAB from DoJ for BSNL recruits posted for next hearing on 31/1/19 at Hon CAT, Ernakulam. Surprisingly the same enthusiasm for impleading is not shown by the members of said associations there.
On the MT issue, association side expressed its firm opposition to the lateral recruitment and informed GM SR that under any circumstances, AIGETOA will not allow this recruitment to go through as either internal or external, this recruitment is going to kill the career prospects of thousands and thousands of BSNL Recruits and will force them to retire at SDE/DE level.
GS AIGETOA told GM SR that if management does not comes out with issuance of promotion orders and withdrawal of MT notification, association shall be compelled to launch agitational action programs and for that management solely will be responsible. GM SR assured to look into the matter and apprise Director HR about the resentment prevailing in the minds of BSNL Recruits as expressed by AIGETOA.
---
THE PROCLAIMED SENA- FRIENDS OR FOES- BSNL RECRUITS SHOULD ANALYZE AND DECIDE :
Posted on 23 Jan 2019
The Proclaimed SENA- Friends or Foes- BSNL Recruits should analyze and decide :
Hon'ble High Court, Kerala has stayed the Proceedings of contempt in 1:1 SCF Promotions for one month. It is learnt that management has gone with the plea that they were ready to execute the promotion order for full compliance of the Hon'ble Court's Judgment but CAT Bench of Ernakulum has not given them the time to do so and there are procedural lapses in the contempt proceedings. Accordingly, based on that, it appears that we may expect the promotion orders soon. The OA filed for execution of Hon'ble High Court Judgment is also posted at Hon CAT for hearing on 24th January 2019. Lets wait for the management's submission in the Hon'ble court of Law and further actions.
In the meanwhile, we are really astonished to read the update on the website of the proclaimed SENA where they are virtually busy defending themselves and abusing BSNL recruits who are fighting for their rights. Below are our direct questions to them:
1. Who/ What stopped management from executing the blanket 1:1 promotions including for BRs in June 2018.
2. Why the judgment was partially executed & Why a Partial AIEL made without any BR JTOs.
3. Why ST List was not executed when it was statutory for DPCs.
4. If there was any problem for BRs DPC, who resolved that problem and how.
5. What/ Who made stalling/ delaying the process of promotions by On/ Own Merit issue when management was ready to execute the promotions by the end of December-2018.
6. Why minutes after this Own Merit and On Merit saga started, they immediately started vouching for CPSU hierarchy. Two days before they were claiming credit for DPC promotions.
If they have answers to above questions then how they can blame petitioners, who are BRs, fighting for the rights of BSNL recruits. This is nothing but their tactics just to befool their members to keep their membership intact, which is already in down churn.
The fact of the matter is that right from the day one, these types of people have indulged themselves in mischief mongering against BSNL Recruits. They misguided the management taking the guise of their membership strength and advantage of some of their cronies fitted in the channel who helped them by misinterpreting the judgment before higher ups. Their sinister game plan was to impose the half cooked CPSU hierarchy from 01.07.2018 after ensuring majority of their executives, who were absorbed from DoT, gets their promotions in JTO to SDE and SDE to DE by 30.06.2018. The seats were upgraded without following the norms and every body forgot BSNL Recruits except AIGETOA. It was the fight of AIGETOA, that DPC process was initiated before 30.06.2018, which failed their malicious design of imposing half cooked CPSU hierarchy on the BSNL Recruits waiting for promotions from JTO to SDE. Everybody can go through the ever changing stands on to their website and ensure the authenticity of our statements. They knew fully well that CPSU once implemented will be stayed very next day as it has many basic lacunae, which will put the careers of the left out executives, which are mostly BSNL recruits in a state of complete jeopardy for next many years. Still they tried to impose it on BSNL Recruits without making the corrections.
They are calling BRs who are fighting for their rights as egotists while the actual fact is that they believe only in pampering the management and misguiding the management vociferously. How an association can call the persons fighting for their rights as egotists. Instead of pressing management to issue the orders which is pending for BR fraternity, they are trying to find faults in activities of other associations and they call themselves as authorized representatives of BSNL Executives. When they can force management to go for contemptuous action, what stops them from forcing management to do the right thing? They should ask this question from themselves, why it took so long for management to file this affidavit, why they did not file it in July 2018 when contempt hearing was on. Actually, management filed the affidavit only when it was proved beyond doubt before Hon court that the partial execution was a faulty step and Hon'ble Court observed them guilty of contempt.
Still, while we are busy pursuing and finding the way out for promotions, not learning from the past, the Proclaimed ones have again engaged in Mudslinging just to befool the BSNL Recruits. Their efforts to include Supernumerary JTOs in the list made to deny promotional opportunities to 2012 LICE JTOs, speaks volumes about their concern for the BSNL Recruits. Their attempt to keep the competitive quota people out from the reckoning in promotions to AGMs and DGMs speaks bulk about their concern for relatively young executives and the open partiality with BRs and DoT batches of later years. The real fact is because of these legacy SENAs of BSNL, all relatively younger executives (either BSNL Recruits or the competitive quota people) are suffering like anything.
In the same way, they are justifying MT Recruitment, calling it a fast track promotion method while they are well aware of the fact that after failing maximum through internal exam, external MT recruitment will be started. This is also a surety that once internal MT goes through, external recruitment will be initiated citing provisions of MTRRs and non-availability of sufficient qualified candidates. Not only that, but by accepting E3 Scale recruitment for MTs they are in a way trying to close the doors for E2/E3 scale implementation prospects also. Even, they are trying to derail the organizational/legal measures to stop this lateral recruitment above JTOs/JAOs. How much more will they befool the executives. Same thing they did on SAB also. When management agreed for 8 percent, they started circulating an RTI, which stated that BSNL recruits are getting, much more than what is being projected. Same thing they did for 22820 also by raising a demand which was not at all practicable and justified. They are the basic reason behind denial of the promotions to BSNL recruits, from both in JTO as well as SDE grade and they are the one behind all the problems which BSNL Recruits are facing - be it Pay (22820, E2/E3), be it Pension (SAB pending) or be it Promotions (JTO-SDE, List 8 & 9).
Their only Job is to misguide, mismanage and derail the benefits what ever is to be given to BSNL Recruits and the Competitive quota people. They should remain rest assured that no self-respecting executive in BSNL will buy their argument except few of their cronies.
As far as AIGETOA is concerned, we are following our course of action and we know that management cannot withhold these promotions for long. If the proclaimed SENA wants to take the credit, they may take. We are concerned with only promotions. Let the Proclaimed SENA remain happy with their ego.
But they should remember one thing; AIGETOA will not allow any harm to the prospects of BSNL Recruits. Our determination and firm resolve to fight for the rights will outweigh their sinister plans. Their malicious and malaise designs will be defeated. Justice can be delayed but not denied.
TRUTH WILL ALWAYS PREVAIL.

---