AIC at Delhi from 11th to 13th July 2019
BSNL REVIVAL
AIGETOA WRITES TO DIRECTOR(HR)
Posted on 16 Aug 2019
AIGETOA writes to Director(HR) to reinstate the executive demoted vide bsnl order dated 06.06.2018 in the light of the order of Hon'ble HC Chandigarh & CAT Bangalore. Click Here For Letter.
---
Posted on 15 Aug 2019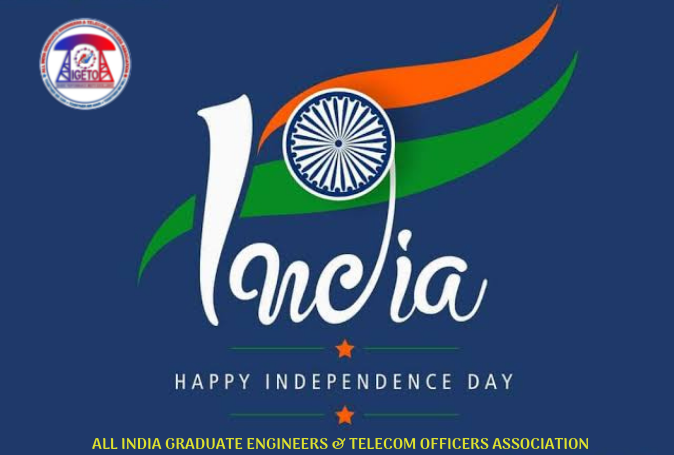 ---
Posted on 12 Aug 2019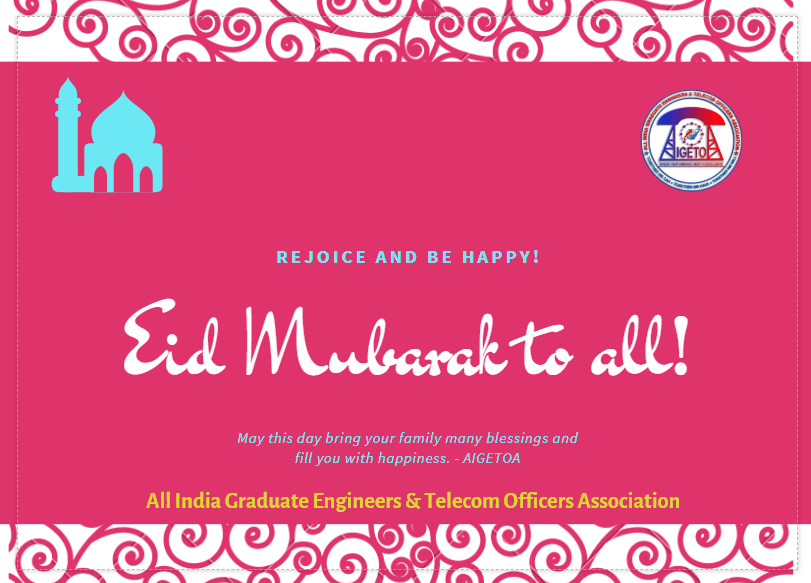 ---
Posted on 10 Aug 2019
AIGETOA writes to Hon'ble MoC, Shri Ravi Shankar Prasad ji for revival package to BSNL coupled with a future roadmap:

AIGETOA, an association of Engineers & Account professionals of BSNL, requests to the Hon'ble Minister for a complete revival plan along with full emphasis on future road map of BSNL, future procurement policies, future standard operating procedures, future HR policies to be adopted by this company post implementation of measures like VRS & rolling back the retirement age to 58 etc.

In our view, any revival measure taken for betterment of BSNL will be strong and effective only if the legacy setup of the company is replaced with a contemporary professional setup coupled with accountability at all levels where management as well as employees are made accountable for each and every penny spent by them. BSNL is still following the age-old practices for running the company, which is one of the main reasons for current state of affairs. Lack of performance-oriented policy is another major reason for downfall. Click here for the letter
---
Posted on 08 Aug 2019
Meeting with GM(Recruitment) BSNL Corporate Office, New Delhi:
Today, Shri Yoginder Kumar AGS-HQ, Sunil Gautam AGS and Shri Vivek Kumar Singh Org Secretary CHQ met GM(Rectt) to discuss the long pending and burning issue of publication of Recruitment Calender of the year. The calendar has scheduled for conduction of examination including LDCE for JTO to SDE. It was informed to her that extreme delay has already happened in conduction of LDCE for JTO to SDE for Vacancy Year 2012-13, which can't be put on hold indefinitely. She informed that the file is pending with CMD and they are also waiting final nod for start of LDCE process at the earliest. Once the file is returned, process for conduction of LDCE will be started.
We also remind her about inordinate delay in publication of JTO LICE result which has not been published even after passage of more than 2 month since exam i.e 26.05.2019. She agreed that the delay has been incurred in the whole process due to litigation in answer keys. She further informed that final expert committee report is put up for Dir(HR) approval. Once approved, result will be announced in this month itself.
---
Posted on 08 Aug 2019
Updates of meeting with Director (CFA) issues pertaining to procurement of MSAN equipments :
Today All India President Shri Ravi Shil Verma along with Vice President Shri Badri Kumar Mehta, AGSs HQ Shri Yogendra Kumar and Shri Sunil Gautam met Director CFA and discussed the issues pertaining to procurement of MSAN equipments. We expressed strong reservation over the unnecessary procurement of copper based data equipments. We told when world is moving towards Fibre, why we are remaining stuck to copper still. Instead our endeavour should be to shift the copper based connections to fibre. Director CFA told that this equipment is targeted to enhance the speed of existing copper based broadband connections so that customers can feel satisfied as even speed of around 12-15 MBPS is sufficient to Cater to customer requirements of Data usage like Netflix, Prime video etc. He said that during POC, it has been found that speed upto 12-15 MBPS has been achieved to BB connections as far as 1.5 KMs from the exchange and within 500 mtrs, speed as high as 50 MBPS has been achieved. He informed that cost of procuring such equipment is less than the AMC cost of present equipments. He told us that before coming to any conclusion, first we should study the POC report. He immediately directed GM (NWP-BB) to share the POC report in general domain with copy to associations. He also told that APO will be placed only after ascertaining the actual requirement from field. We said we will go through the POC report and will discuss again. We once again told Director CFA that any unwanted procurement should be avoided and a detailed cost benefit analysis should be done before placing such type of APOs.
---
Posted on 08 Aug 2019
Updates on meeting related to extension of Rule-9 cases, notification of next LICE and relieving of Rule-8 candidates :
President Shri Ravi Shil Verma, Vice President Shri Badri Kumar Mehta, AGSs (HQ) Shri Yogendra Kumar and Shri Sunil Gautam met DGM establishment and discussed the issues pertaining to extension of Rule-9 cases, notification of next LICE and relieving of Rule-8 candidates from Circle alike Gujarat and processing of Rule 8 cases of circles like Assam. Since Sr GM establishment was on leave, we discussed the issues with DGM establishment as lot many of Rule 9 cases are not being extended. We shall be meeting Director HR also on these issues tomorrow. We also discussed the issue of uniform deputation policy (The file is currently in Establishment section) instead of pick and choose deputation cases which are solely based on discretionary powers. It was informed that changes have been proposed in deputation policy to make it uniform. With regard to LICE notification, it was told that needful will be done to notify next LICE. On the Punjab Circle LICE issue, he told that instructions for filing fresh MA has been issued to end the stalemate as candidates are suffering for no fault of them. For the extension of Rule 9, Temporary cases, suitable instructions from higher authority shall be required. We also met PGM Pers to discuss the uniform deportation policy. He told us that now onwards all the cases will get similar treatment and necessary changes have been proposed in the policy.
AIGETOA shall be meeting Director HR shortly also to discuss on the pending HR issues.
---
Posted on 07 Aug 2019
GS letter to Director (CFA) about deployment of MSAN equipment :
GS AIGETOA writes to Director (CFA) BSNL Board regarding procurement of Multi Service Access Nodes (MSAN) for VDSL & GPON Ports with request to kindly give a relook over the concerns raised, before arriving on a conclusion about deployment of MSAN equipment in the larger interest of BSNL. Click here for letter
---
Posted on 05 Aug 2019
Non-participation of AIGETOA in proposed LHD & Gate Meeting of AUAB on 7th Aug'2019 :
Dear Friends, As you are aware that AUAB has called for lunch hour demonstration for charter of demands which includes financial viability, soft loan to BSNL, removal of ban from CAPEX, stoppage of repressive measures against representatives of employees etc along with a new demand of opposing any retrenchment. But the draft letter of AUAB is silent on many other important issues like BSNL Revival Plan, 4G allotment, Future roadmap for smooth functioning of BSNL, important HR issues of BRs e.g. pending part of 30% Superannuation Benefits, Standard Pay Scale of E2-E3 for JTO-SDE equivalent, stagnant career growth of BRs etc.
Although, we also don't support a blanket retrenchment process but AIGETOA is of the firm view that present condition of the company necessitates a golden hand shake in terms of VRS and rolling back of retirement age to 58 for a brief period with a condition to restore it back to 60 Years, once company turns positive. We believe that it's a win-win situation for both set of employees i.e. those opting for VRS and those staying back in the company. So, we don't support the idea of AUAB to "oppose retrenchment" though extend our moral supports to other demands which are essential for the company.
AIGETOA has categorically informed the convener that AIGETOA will neither signatory nor part of any such organizational program proposed by AUAB for 7th Aug-2019 i.e. LHD, Gate Meetings etc as per the resolution taken in our recently concluded AGM at Delhi.
We request management and Department of Telecommunication to come out with their plan of action with respect to revival of BSNL at the earliest and discuss it with all stake holders. Further, any revival plan will not be complete if it is just aimed at implementing VRS, reducing retirement age to 58 and land monetization etc. The REVIVAL PLAN OF BSNL must be in a complete package with a future roadmap in terms of all aspects i.e. Financial, Operational, Human Resource Management. We also demand that while deciding revival package of BSNL, the role of BSNL Recruits has to be given a central stage considering the longevity of their service in the organization for a sustained and vibrant BSNL.
A letter circulated by AUAB has created confusion in the minds of our members, fellow employees and others which needs to be cleared.
So, it is hereby once again informed that AIGETOA is not part of the proposed organizational activity of AUAB on 7-August 2019. Revival & Survival of BSNL is prime agenda of AIGETOA, where it will not compromise and will keep on focusing our issues valiantly. Click here for the letter to Convener-AUAB
---
Posted on 29 Jul 2019
Cabinet Memo on BSNL Revival Plan circulated to Nodal Ministries based on the recommendation of GoM after approval of the Minister:
It is reliably learnt that the proposal of BSNL revival has been moved to the Nodal Ministries after approval of the Minister. The proposal has been drafted in line with the recommendations of the Group of Minister Meeting held under the chairmanship of Hon'ble Minister Shri Amit Shah Ji. The salient feature of the draft is as follows:
- The Government will give 4G spectrum to BSNL and it will bear the cost in terms of capital infusion.
- A Special Purpose Vehicle (SPV) will be created to take cares the loan of BSNL of amounting Rs. 23,000/- Cr against the land parcel of equivalent amount.
- The land monetization efforts will be expedited.
- The VRS scheme will be introduced for the employees above the age of 50 years. The ex-gratia will be based on Gujarat Model of 35 days of each completed year and 25 days of remaining year with 5% extra on total emolument.
- It is also in the proposal to reduce the age of retirement to 58 years after implementation of VRS.
- BSNL will issue bonds to the public with sovereign guarantee of the Government of India to arranging the money for VRS.
- Government will extend financial support for rural exchanges.

---
Posted on 29 Jul 2019
AIP and GS meeting with various dignitaries at BSNL CO, New Delhi:
AIGETOA meeting with various authorities of BSNL Corporate Office, New Delhi regarding HR issues as well as day to day maintenance issues being faced in the field units y our officers to maintain services.
Meeting with Director HR on 25.07.2019:
AIP, GS, JS(S) and OS-II met with Director HR on the issues of JTO-SDE promotions, SDE reversal issue of LDCE-2007 for some of the SDEs who were short of three years service, allowing of deputation of our executives to other departments and recent financial crunch in field units for O&M of our network. The Director HR was very receptive and listen all issues patiently.
On JTO to SDE promotion, he listened to our arguments and agreed that no stay is granted but also emphasized that the review petition filed by BSNL on the outcome of OA has been heard and judgment is pending. The legal cell of the department has intimated to wait till outcome of the judgment. So, he said that department has no option but to wait for the judgment. We said that already lot of time has gone and the promotions have been held up for no reasons. The patience of executives is running out and it's high time that department listens to this long pending issue. We emphasized that since BSNL is now placed in a very tough situation and we are trying to avoid any situation which is not in the best interest of the organization but prolonged neglect will ultimately take us to a situation which none of stake holders in organization want to occur. We conveyed that we are willing to take constructive steps but for that HR section has to come out with an open heart. We requested Hon'ble Director (HR)'s kind intervention on the issue. He assured us to look for the ways to find a solution.
On SDE reversal issue he categorically told that he is against any reversion, but said that the issue cropped up only due to court case filed by some applicants and they lost up to Hon'ble High Court and order of the Court is binding on the department. But after listening our arguments, he assured that the issue will be re-examined on merit and no decision will be taken in haste. So, now it has been held up temporarily and will be decided with detailed study of all cases, judgments and arguments put forward by us with supporting documents. All candidates are also requested to be in constant touch and ready for any decisions.
On deputation, he intimated that the department is going to bring changes in the deputation policy but is waiting for the government decisions on revival policy as human resources of the company is also one of the point in revival plan.
We also requested to the Director that fund crunch is leading to extreme situation in field and BSNL CO needs to immediately address the issue of releasing the funds for O&M especially that of Electricity Bill Payments, Labour payments etc. It was intimated that the BSNL Corporate office is also not giving the Bank EMI since last two months for the loans taken by the employee through BSNL. This may cause litigation/defaulter with the bank for all such cases and needs to be taken care immediately. It was informed that BSNL CO is aware of the whole situation and will do the needful to address all issues but the situation has arisen due to shrinking gap in earned revenue and left over money for other works after salary disbursement.
Meeting with PGM(Pers), DGM(Pers-legal) & DGM(Pers) on 26.07.2019:
The team of AIP, GS, VP &JS(S) met with the PGM(Pers) and DGM(legal) jointly and DGM(Pers) separately. The SDE reversal issue discussed with PGM Pers also in detail and all points were elaborated with supporting documents. PGM (Pers) was also of the view that he is not at all for it but Court judgment applicability has to be seen. He agreed on our request that the issue will be further examined with legal cell with court judgments. The JTO- SDE promotion order was also discussed which echoed the view point of Director (HR).
Meeting with Sr GM(Estt) on 26.07.2019:
The GS and AGS (HQ) also met with Sr GM (Estt) with Team and emphasize to issue letter to Circles to settle Rule-8 cases. It was intimated that our previous letter is in process and some direction will be issued. We requested him to take note of the executives suffering in distant circles since many years and needs justice. He assured to look into it positively.
Earlier, our team has held a series of meetings at various levels including that of CMD, Director (HR), Director (Fin), Director (CFA), Director (EB) in last fifteen days to press upon the issues related to promotion (JTO to SDE), SDE Reversion issue of 2007 LDCE passed candidates, List 8 Finalization and List 9 preparation, Uniform Deputation and Transfer Policy etc. On the issue of Pay Scales and 30% Superannuation Benefits we are trying to seek meeting with Hon'ble Secretary (DoT) so that firm directions can be obtained from DoT. Our Team is consistently on job and results will be visible in near future. The situation is really tough, as today the survival of BSNL has taken a priority over all other issues. We are trying to move forward by keeping a balance between the BSNL revival/survival issue and the HR issues. Just remember, when the situation is tough, only tough gets going. Together we will definitely bring the good time again for BSNL and its whole fraternity.

---
Posted on 25 Jul 2019
GS Letter to CMD, BSNL for Non-issuance of promotion in JTO to SDE grade :
GS AIGETOA writes to CMD BSNL regarding non-issuance of promotion in JTO to SDE grade despite of availability of 8K+ vacancies. Click here for letter
---
EPF INTEREST RATE MAY REMAIN UNCHANGED FOR 2018-19-MEDIA REPORT:
Posted on 23 Jul 2019
After a finance ministry proposal to cut down the Employees' Provident Fund Organization (EPFO) interest rate for the last financial year 2018-19 was shot down by the labour ministry, EPF rates may remain unchanged for about 6 crore subscribers. Click here for the report
---
AIGETOA WRITES TO DIRECTOR (HR) AGAINST THE ONGOING PROPOSAL OF REVERSAL OF SDES (WITH SHORTER ELIGIBILITY PERIOD) RECRUITED BY LDCE-2007
Posted on 22 Jul 2019
AIGETOA have been apprised that the BSNL management is contemplating for reversal of all such SDEs who were promoted through LDCE-2007 but were short of three years eligibility service period of JTO grade on the due date of 01-07-2005 against the vacancy year 2005-06. AIGETOA is of the firm view that the Clause 12(5) of SDE RR-2002 clearly provides legitimate eligibility for all such candidates who were short of three years of service but their juniors in the JTO Gradation list were eligible on the basis of completing three years eligibility service. So, any idea of reversal of these SDEs will be totally unfair, wrong and provocative and hence it will be dealt accordingly. All the candidates put the fact before the screening wings of the department and didn't suppress any facts. Even then the department allowed them to appear, qualify, selected, promoted and working since more than ten years in the SDE grade.
Now out of sudden the talk of reversal is going in some corridor, which is strongly opposed by AIGETOA and so the association has written to the Director (HR) and our Team is meeting different officials in Pers wing and will also take up the matter with Director (HR) today. We know that even the candidates who were eligible as per SDE RR on 01-07-2005 are being tagged ineligible due to hostility towards BSNL Recruits be certain people. These candidates are paying the price of being a BSNL Recruits but we assure that the association will try its best to protect their interest and fight for the cause of BR at each step. Click here for the letter to Director (HR)
---
GS AIGETOA WRITES TO GM (SR) FOR NEW CENTRAL GOVERNING BODY OF AIGETOA & FORMATION OF NOMINATED TEAMS
Posted on 22 Jul 2019
GS AIGETOA writes to GM (SR) for new Central Governing Body of AIGETOA & formation of Nominated Teams :
1. Regarding 15-member new Central Governing Body of AIGETOA elected for next term on 13th July 2019 in the 5th All India Conference and Annual General Meet held at New Delhi. Click here for letter
2. Regarding Formation of nominated teams for next term in the 5th All India Conference and Annual General Meet held at New Delhi as per the provisions of constitution of AIGETOA. Click here for letter & List of Nominated Members
---